Furniture Command Center is a web-based application specifically designed for the contract furnishing industry. Our custom application has been tailored to satisfy the unique needs of this important industry allowing organizations to enter, track and, when necessary, change orders quickly, simply and efficiently.
The heart of the Furniture Command Center application is our quote system. Quotes can be easily generated from scratch or copied from existing quotes/orders for faster turnaround times. Once a quote advances to purchase order status, the application automatically creates a customizable workflow process ensuring your orders are fulfilled and your customers are serviced in a repeatable and reliable manner.
Managing the inevitable punch lists is also much easier using Furniture Command Center. Changes or modifications to the original order are seamlessly grouped together so that sales and other customer support groups get a complete picture of the project.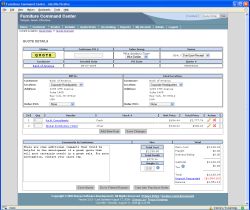 Here is a quick list of some of the features you can expect from Furniture Command Center.
Fully online and hosted software service solution.
Built from the ground up specifically for the contract furnishing industry.
Quick and easy quote generation.
Quotes can be easily emailed, printed or saved as PDF files.
Built-in supporting functions like CRM, status reporting and accounting software integration.
All updates and configurations are automatically handled for you.
Easy to access customer support.
Customizable and extendable to better support your unique needs.